Kathi and Kathrin in Duisburg – Partner Experience at Salesupply
We recently went to beautiful Duisburg to visit our service partner Salesupply. Our partner has many talents, but the two greatest are international logistics &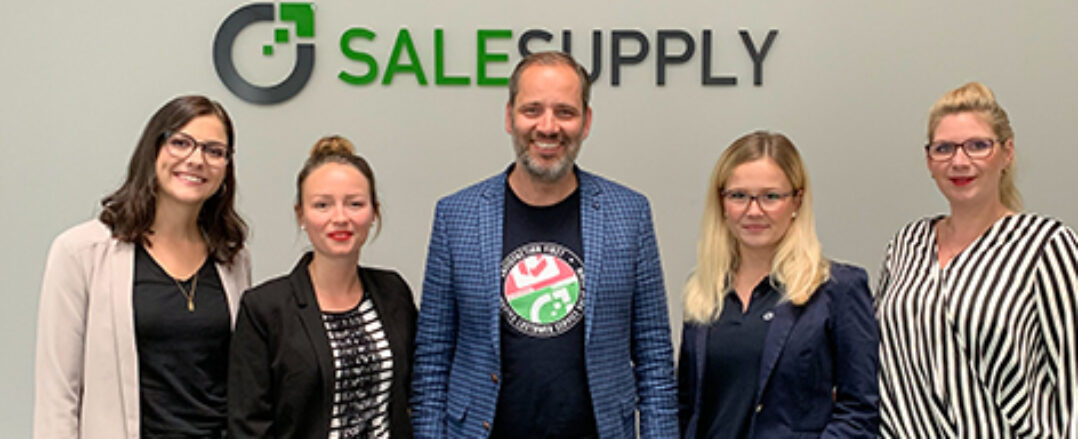 We recently went to beautiful Duisburg to visit our service partner Salesupply. Our partner has many talents, but the two greatest are international logistics & the contact centre.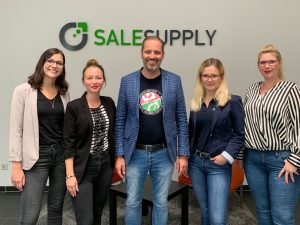 Just like Tradebyte, Salesupply was founded 10 years ago and has branch offices in the Netherlands, France, Spain, Poland, Denmark, Finland, Belgium, Russia, Norway, Sweden, the UK, Italy, the USA and China alongside its headquarters in Germany. Its biggest market share is in Germany, while the smallest is in the USA. A total of 250 employees work at Salesupply and the team is still growing. 58 employees work in Duisburg, 43 of them at the call centre, which represents the core business of Salesupply.
When we arrived, Henning, the co-founder, welcomed us in his office. After a brief chat, Jenny (KAM Lead) and Anja (Head of Operations) joined us. They completed the partner experience round.
Originally, Salesupply wanted to internationalise its business. They very quickly realised that there were many obstacles which needed to be solved. The idea to become independent actually came later. But many online shops were facing exactly the same challenges and they were glad that Salesupply was an expert in this field and had the perfect solutions. With its numerous international awards, Salesupply is one of the leading companies in the area of e-commerce logistics and customer service solutions.
Customer service makes up approximately 80 % of Salesupply's business while warehouse/returns management and the complete solution for internationalisation make up the rest. Logistics are usually handled via external warehouses. Salesupply works with around 500 online shops and trains employees for special industries. Additionally, employees receive customer-specific product training in which questions and particulars are discussed. Customers can book different individual packages at Salesupply. In general, the customer has to decide how many agents are trained, whether complete service is booked and which service is required e.g. call, chat or social media and so on. Furthermore, a timeframe has to be set in which the agents are active. The advantage of Salesupply is that they offer 15 languages directly on location. Analyses are made on a daily basis in order to improve performance and adhere to all service level agreements.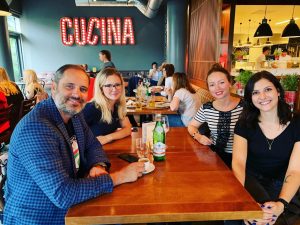 During our meeting, we talked about customers but also discussed how challenging it is to work at a call centre, as each customer works differently and a phone call can turn into a real rollercoaster ride. As the job is very stressful and employees have to talk a lot, Salesupply tries to create a comfortable working environment. There is, for example, a football table and a punching bag where employees can let loose, a balcony for relaxing, salad days and BBQ events. There's also the possibility to bring dogs into the office or children, which is especially important during the school holidays. The kids can play in an office where there are toys available. Team spirit is extremely important. The employees work together, whether by putting up tables or when members of the management also get on the phone to help out during stressful times. Salesupply has a great Kununu ranking with its 4.40 points and a recommendation rate of 93 %.
Each employee has an average of 3-8 shops to look after. As there are many locations in different countries, Salesupply has introduced an internal newsletter. This publishes all the news which is interesting for its employees such as the introduction of new colleagues. But of course there's also an external newsletter for customers and the "Cross Border" magazine which has been dealing with exciting topics for 3 years.
As the highlight of our partner experience, Henning took us out to an Italian restaurant. Thank you, Salesupply, for the hospitability and the lovely day.
Interview with Henning Heesen, Co-Founder of Salesupply
Unfortunately, we couldn't get round to listening in on a phone call. What have we missed? And, in your opinion, what is the biggest challenge in your business?
Customer satisfaction is most important for us. Delivery delays that get completely out of hand and complaints are the biggest challenges for our agents. Giving customers a feeling of trust in the corresponding shop is exactly our "thing". We call it "from ouch make wow" – turning customers with negative experiences into enthusiastic customers.
You don't shy away from anything and like to try out new things. What motivates you to do this over and over again and what have you learned through this?
Entrepreneurism is firmly established at Salesupply. We approach challenges in a pragmatic way with a plan and test things by starting small. We like to solve and learn quickly and therefore have the motto: "the proof of the pudding is in the eating".
What's your message for customers who would like to internationalise but don't have the necessary experience or resources?
No experience is no problem. However, having no resources is problematic. If resources or financing aren't available, there's a danger of getting bogged down in details. And a plan is key – without that, it turns into playing the lottery and becomes expensive.
What exactly is your mission and how has it developed with you?
Our mission was and still is to support medium-sized e-commerce companies in their worldwide growth.
At our ECD Lunch in Amsterdam, you gave the key note speech on the topic of Germany-Netherlands. Some of our readers might not have heard it, so could you briefly sum it up again? What's so special about the Dutch market?
The Netherlands and Belgium are small markets in comparison to Germany. Developments can be implemented and established quickly. Logistics are a good example of this. Because you can drive through both countries within 2 hours, same-day delivery is almost standard there. Furthermore, all big traders have a cut-off time of 11.59 pm for next-day delivery. If, as a German trader, you want to offer your product at the same price but with 2-3 days' delivery time, you can imagine who the local customer will choose.
In which countries do you see the most potential/growth and which approach do you recommend for your customers?
That depends on the product and company strategy. But if you're interested in Europe and market share, for example, like investment-driven players often are, you'll have to go through the whole jungle. But if you just want to obtain turnover with a good margin, small countries are usually the most promising, e.g. Norway, Finland, Switzerland, Denmark, the Netherlands, Belgium.
You go to many e-commerce events and know the industry inside out. What was a real highlight for you this year?
The K5 is the leading event in e-commerce for me. That's where traders and brands of the top 1000 in Germany go, which is exactly our target group.
Henning Heesen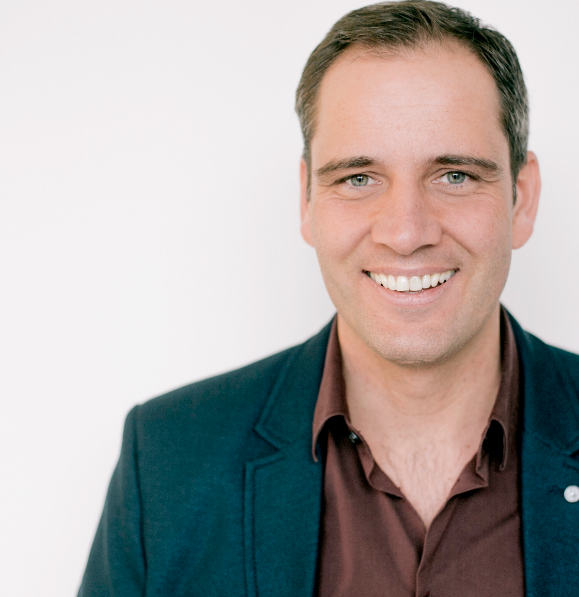 Position: Managing Director

Favourite colour: blue

What do you like to do in your free time: Travelling and spending time with my 3 teenage girls

Personal goals for 2020: Travelling more and spending time with my 3 teenage girls